6 Best Laptops of CES 2023 for Gamers and Streamers (Including Webcam Resolutions)
Despite the abundance of powerful laptops at CES 2023, finding a high-quality integrated webcam for gaming and streaming can still be a challenge. Fortunately, HP has recognized the importance of a high-quality integrated webcam and has equipped their laptops with 8MP (4K) webcams for clear video calls and engaging streaming experiences. Here are our picks for the best laptops of CES 2023 with some more attention on display and webcam resolutions for streamers and gamers on the go.
Dell
G16
Display: 16'', 2,560 x 1,600 pixels (WQXGA), 240Hz
Webcam resolution: 1280 x 720 pixels (720p, HD)
Dell has announced the G16 gaming laptop at CES 2023, featuring a range of modern processor and graphics technology options. It has a bulky design and offers an impressive display with a resolution of 2,560 x 1,600 pixels and a brightness of 300 cd/m², with two color space and refresh rate options. The G16 also has the option for up to 32GB of RAM and 2TB of flash storage and comes with a Cherry MX mechanical keyboard with RGB lighting. It has various connectivity options, including USB-C and USB-A ports and an HDMI 2.1 port. It unfortunately has a rather disappointing 720p webcam. The Dell G16 has a base price starting at $1,500 and will be released in spring 2023.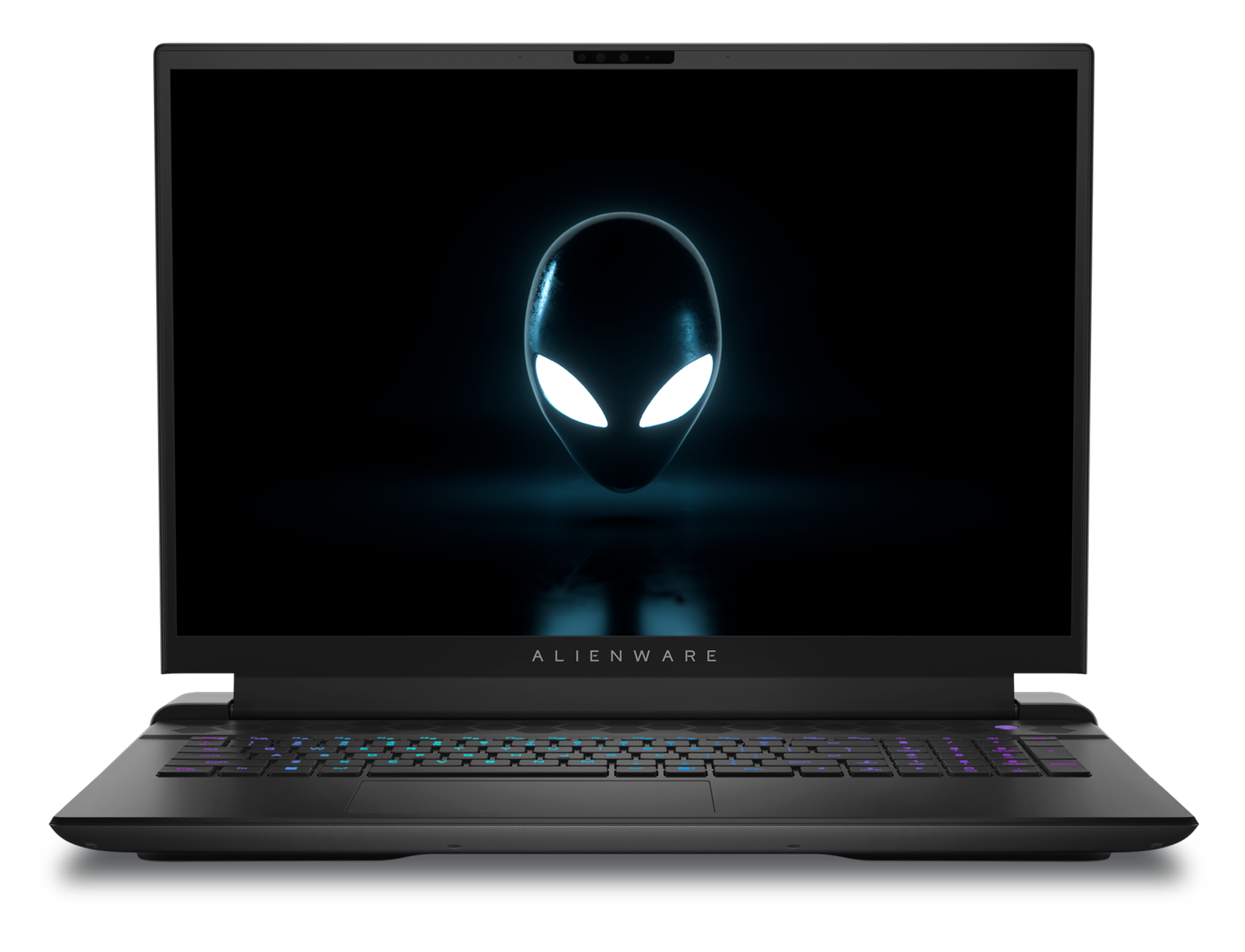 Alienware m18
Display: 18'', 2560 x 1600 pixels (WQXGA), 165Hz
Webcam resolution: 1280 x 720 pixels (720p, HD)
While Alienware has also unveiled the impressive m18, an 18-inch laptop, the standout of their announcements is the sleek Alienware x14. The company has updated the product with a new ID, called Legend, featuring a flattened back for improved carrying comfort and an updated nose for easier opening. The x14 also boasts a new foot design for better cooling and increased lap comfort, as well as a tall 16:10 display with Dolby Atmos and Dolby Vision support. It is equipped with a full-HD webcam and has thermal material on the CPU and GPU for optimized heat dissipation.
Acer
Display: 18'', 2560 x 1600 pixels (WQXGA), 240Hz
Webcam resolution: 1280 x 720 pixels (720p, HD)
The Acer Predator Helios 18 is a gaming laptop with an impressive 18-inch display, offering a resolution of up to 2560 x 1600 and a 240Hz refresh rate. It is powered by a 13th Gen Intel Core i7 or i9 processor and features the latest NVIDIA GeForce RTX 40-series graphics. With up to 32GB of DDR5 RAM and up to 2TB of PCIe Gen 4 NVMe SSD storage in Raid 0, this laptop is sure to deliver strong performance. The mini-LED backlit keyboard has 1.8mm of key travel and anti-ghosting N-key rollover. The large size of the display is a standout feature of this laptop, which will be available starting in April for a starting price of $1,699. It is worth noting that the webcam is only 720p, which may not be suitable for streamers or people working from home looking for a higher-quality video image.
Display: 16", 3200 x 2000, 120Hz
Webcam resolution: 2560 x 1440 pixels (1440p, WQHD)
The Acer Swift Go laptops, available in 16 and 14-inch sizes, offer impressive OLED displays with 3200×2000 and 2880×1800 resolutions and 120 Hz and 90 Hz refresh rates, respectively. They are powered by 13th Gen Intel processors and support up to 16GB of RAM with a 2TB PCIe Gen 4 SSD. Designed with productivity in mind, the Swift Go laptops have a high-quality 1440p webcam, making them suitable for video conferencing and even streaming. They also have USB Type-C ports, HDMI 2.1, and a MicroSD reader. The 16-inch model will be available starting in June 2023 for $799, while the 14-inch model will be available in May 2023 for $849.
Asus
Display: 18'', 2560 x 1600 pixels (WQXGA), 240Hz
Webcam resolution:1280 x 720 pixels (720p, HD)
Laptop makers have been reducing the frames around displays, allowing for larger screens in smaller bodies. The ROG Strix Scar 18 is an 18-inch laptop with a body size similar to a 17.3-inch laptop. It comes with high-performance components and is available in a 16-inch size as well. Asus has also released the CX34 Flip, a white two-in-one Chromebook with color-blocked WASD keys and an RGB backlit keyboard. It has a 16:10, 144Hz WUXGA (1,920×1,200) display and fast Wi-Fi 6E wireless, making it suitable for work, school, or play. The Chromebook will be available with up to a 12th-gen Intel Core i7 processor and 16GB of memory and is expected to be available in Q1. The webcam resolution remains rather disappointing at 720p.
HP
Dragonfly Pro Chromebook
Display: 14'', 2560 x 1600 pixels
Webcam resolution: 3840×2160 pixels (8MP, 4K, UHD)
The HP Dragonfly Pro Chromebook is a highly impressive laptop that is sure to be a hit with users who are constantly connected to the internet and need a device that can handle a variety of tasks with ease. One of the standout features of the Dragonfly Pro is its 14-inch touch display, which boasts an impressive 1,200 nits of brightness – making it the brightest screen ever to be featured on a Chromebook. In addition to this, the Dragonfly Pro also comes equipped with an 8MP webcam – a first for a ChromeOS clamshell – which is perfect for work from home and streaming purposes. Overall, the HP Dragonfly Pro is an excellent choice for users who need a reliable, high-performance laptop that is packed with top-of-the-line features.
Looking for a more efficient way to use your computer with that quality webcam?
Eyeware Sense can help! Even for webcams with a resolution as low as VGA. Our AI-powered webcam app makes your mouse cursor appear where you look, reducing unnecessary mouse movements and saving you time. With features like the multi-screen pointer, mouse warping, presence detection, and enhanced focus, Eyeware Sense is a must-have for anyone looking to increase productivity and protect their privacy. And the best part? You can try it for free with no credit card required! Available for Windows only. Start using Eyeware Sense today!